Researchers are in a renaissance of understanding how sleep affects health and cognition. A big shift is occurring from thinking about sleep as a reactive, or homeostatic process, to now also recognizing the prospective role of the sleeping brain. And a new study is providing further evidence about how the brain prioritizes storing information during sleep that will be valuable for future thinking. 
"In the last few years, there has been a flurry of papers that challenge the theory that future-focused information is preferentially consolidated during sleep," says Michael Scullin, a cognitive neuroscientist at Baylor University. "Björn Rasch and Erin Wamsley in particular have contributed to this literature, along with many other voices in the field. Though we agree with the skepticism that has emerged, our latest results lead us to believe that there is something to the idea that future-focused information is differentially processed during sleep, even if such processing isn't always reflected by next-day behavioral estimates of memory retention."
Indeed in  a recently published paper in the Journal of Cognitive Neuroscience, senior author Scullin with first author Paul Fillmore and colleagues found differences among younger and older adults in sleep patterns associated with tagging ideas for future thinking. "The goal was to determine whether thinking about the future near bedtime impacted sleep physiology," Scullin explains. 
The researchers asked healthy young adults and older adults to complete a standard measure of episodic future thinking called the Modified Future Crovitz Test, in which they were shown a series of nouns, and for each one they had to think about a possible future event associated with that word and type everything they were thinking. Participants did that on one night, and on a second night they saw a different set of nouns and had to think of associated past events. The order of future-focused and past-focused nights was counterbalanced, and only occurred after a baseline, adaptation night in the lab. 
They found differences in sleep spindles — high-frequency bursts of electrical activity that appear on EEG recordings during non-rapid eye movement (non-REM) sleep — between the younger participants and older ones when it came to engaging in future thinking. Scullin spoke with me about these findings and their significance, as well as future directions for the research.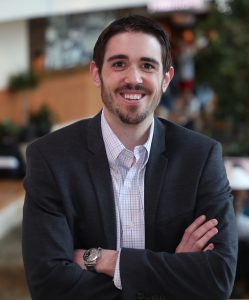 CNS: How did you become personally interested in this research area?
Scullin: I've always been interested in prospective memory – memory for intentions in the future – dating to when I joined Gil Einstein's  prospective memory lab as a sophomore undergraduate. Much of this work on prospective memory focused on the basic mechanisms by which intentions are stored and retrieved, and eventually that investigation led me to conduct a master's thesis on how sleep and prospective memory are related. And, they are related. If you have a lot of prospective memory tasks — a long to-do list — that's going to weigh on you and make it more difficult to fall asleep (Scullin et al., 2018, JEP:General). In addition, if you form an intention and afterward are prevented from sleeping, or otherwise obtain poor sleep quality, then you won't be as likely to remember to perform that intention in the future (Scullin & McDaniel, 2010, Psychological Science; Scullin et al., 2019, SLEEP). Studying the relationship between sleep and "prospection," which is episodic future thinking/simulation, was an extension of this broader research program. 
CNS: What aspects of sleep physiology did you look at in this study?
Scullin: We looked at three sleep outcomes that we have targeted in previous projects and that have been implicated in several studies of memory consolidation and aging. The measures were sleep spindles, delta power, and slow oscillation power, each derived from frontal channels during non-REM sleep. There is a growing literature that these measures—or a combination of them—mediates age differences in memory consolidation over sleep intervals. 
CNS: What were you most excited to find? 
Scullin: The first step was to see if spindles, delta power, or slow oscillation power differed across the nights. They didn't, but we noticed that some people showed a lot of evidence for future thinking in their typed responses whereas some participants showed very little. We quantified these differences using automated linguistic analyses of future/past tense. With that approach, an interesting pattern emerged. The more that young adults engaged in future thinking, the greater the number of spindles they showed during non-REM sleep. This pattern was selective to future thinking; in other words, it didn't represent some baseline level of spindles or baseline cognitive ability the participants possessed. 
The most surprising finding was that the opposite pattern emerged for older adults. The more that older adults engaged in future thinking, the fewer the number of spindles they showed during non-REM sleep. It was an age-based dissociation, and again, it was specific to future thinking. No such associations were seen for the night where they focused on past thinking and the pattern remained statistically significant when controlling for gender, cognitive ability, and total word count of typed responses. 
There is an energetic field of scientists trying to understand how sleep, cognition, and aging interrelate. Much of the work has focused on how changes in sleep physiology with advancing age cause changes in cognitive functioning. That's good, but I think the field needs to think more about how cognitive changes impact sleep.
CNS: What does this study change most about how we should think about sleep, memory, and prospective thinking?
Scullin: There is an energetic field of scientists trying to understand how sleep, cognition, and aging interrelate. Much of the work has focused on how changes in sleep physiology with advancing age cause changes in cognitive functioning. That's good, but I think the field needs to think more about how cognitive changes impact sleep. One interpretation of our data is that changes in episodic future simulation – either the quantity or the quality – drive the changes in spindling rates. Another, more complicated possibility is that whatever neural mechanisms link the "future tagging" of information to later memory consolidation and spindling is disrupted in advancing age. All of that is to say the field is making impressive progress in understanding sleep, cognition, and aging, but we need to do a better job of incorporating how cognitive demands and cognitive activities change across the lifespan.   
CNS: Do you see any translational applications for this work in addressing sleep in older adults?
Scullin: The current study was more mechanistic than applied. To improve sleep in older adults you first need to do widespread screening for sleep disorders. Obstructive sleep apnea is a major problem in this age demographic, and no surprise, there's evidence this condition impacts neural and cognitive functioning (Scullin, 2017). After screening for sleep disorders, there's a need to address circadian rhythm issues, such as very early wake times. Encouraging older adults to get more natural sunlight in the morning, swap out their afternoon nap(s) for aerobic activity, and go to bed earlier can all help. Then, like people of all ages, sleeping well is a matter of sticking to healthy sleep hygiene habits, managing stress, and keeping a good diet. Some labs are exploring the possibility of brain stimulation during sleep for improving cognitive functioning in older adults. There are some exciting findings emerging and the next step for this field will be to conduct large sample, pre-registered randomized controlled trials with long-term follow-ups.  
CNS: Is there anything else I didn't ask you about that you'd like to add?
Scullin: We recently developed a tool to encourage people to sleep better, funded by the National Science Foundation. At SleepIsGood.com people can take a pledge to improve their sleep, and we offer many easy, moderate, and challenging approaches they can take. People can even take our 21 Day Sleep Challenge in which they work on different aspects of their sleep hygiene each day. Improving one's sleep begins with prioritizing it and making a plan to enact behavioral change (Scullin, 2019). That's what this free website is all about. 
-Lisa M.P. Munoz