CNS 2023 Q&A: Mark D'Esposito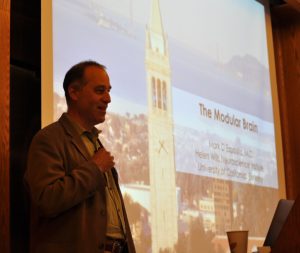 Since becoming a neurologist more than 30 years ago, Mark D'Esposito has seen thousands of patients, many of whom have suffered frontal lobe syndromes, learning every day in his clinic.
"Some of what I learn helps guide my research that strives to understand the function of the human brain. Some of what I learn helps me understand human nature," he says. "For instance, I am always struck by how resilient each patient is after a neurological injury, such as a stroke or trauma. Their desire and motivation to get better, and to live with dignity, can't be put into words. After a day in my clinic, I am always left with a sense of awe." 
Frontal lobe syndromes are highly prevalent in society, as many neurological disorders damage the prefrontal cortex, such as traumatic brain injury, stroke, brain tumors, or neurodegenerative diseases. In addition, prefrontal dysfunction is associated with many psychiatric (e.g. depression) and development disorders (e.g. ADHD). Daily factors such as stress, sleep disorders, and normal aging also can affect the functioning of the prefrontal cortex. A medical doctor and a professor of neuroscience and psychology at the University of California, Berkeley, Dr. D'Esposito has been working to connect what he has learned as a neurologist with groundbreaking work in cognitive neuroscience to translate back into the clinic.
The recipient of the 2023 Fred Kavli Distinguished Career Contributions Award, Dr. D'Esposito will be delivering an award lecture at the CNS annual meeting this March in San Francisco. I spoke with him about his early inspirations, the progress of translating research to the clinic, and current trends in the field.
CNS: What inspired you to study this area? 
Dr. D'Esposito: I took a neuropsychology course in college as a freshman where we read a book by Howard Gardner called The Shattered Mind. I would recommend it to every cognitive neuroscientist. Dr. Gardner is a Harvard psychologist known for his theory of multiple intelligences; he spent time in the Behavioral Neurology ward at the Boston VA Medical Center and wrote about the patients he encountered with a wide range of cognitive syndromes such as amnesia, agnosia, and aphasia. This book is what an undergraduate textbook of neuropsychology should be like. Reading it motivated me to become a neurologist, and of course, my naïve dream was to do my neurology residency at the same hospital in Boston where Dr. Gardner saw these patients. 
Flash forward 8 years, and I was lucky enough to do that. Seeing these patients for myself, rather than reading about them, was life-changing and set the foundation for my career in cognitive neurology and neuroscience. The patients with frontal lobe syndromes were fascinating to observe yet the most challenging to understand. As a resident, I stumbled upon a lecture by Pat Goldman-Rakic at the Boston Society of Neurology. I was blown away by her physiological studies of frontal lobe function. But I couldn't connect what she was saying with what I saw in my patients at the hospital. It got me thinking that someone needs to make that connection, so why not me? 
CNS: Have there been any major bottlenecks in neuroscience efforts to understand the frontal lobe? 
Dr. D'Esposito: Although investigations of the frontal lobes are extremely challenging, I don't believe that scientists and clinicians are hampered by a bottleneck that creates a barrier to progress. I feel optimistic about our future efforts and think the door is wide open. With that said, the elusive nature of frontal lobe function does tend to lead to more difficult questions for every question answered. Nevertheless, we have made remarkable progress in the past 30 years. The development of new tools to study human brain function has allowed us to ask questions that could not have been answered previously. It just takes time to solve the riddle of the frontal lobes! 
The development of new tools to study human brain function has allowed us to ask questions that could not have been answered previously. It just takes time to solve the riddle of the frontal lobes! 
CNS: What new findings are you most excited by and why? 
Dr. D'Esposito: I'm most excited that what we have learned in the lab is beginning to be translated into the neurology clinic. For example, many cognitive therapies implemented in clinical practice are based on basic cognitive neuroscience research. I am also excited that "brain health" is gaining traction with the public. Neurologists focus exclusively on patients with neurological disorders, with little thought about promoting brain health in the healthy. We all know that lowering your blood pressure and cholesterol will decrease your risk of a heart attack. But what can we do to maintain a healthy brain? Again, I believe that basic cognitive neuroscience research can help answer this question. 
CNS: What are the next steps for further translating neuroscience findings into the clinic? 
Dr. D'Esposito: First, cognitive neuroscientists must have more conversations with neurologists and psychiatrists about their research and its potential implications for clinical translation. Second, cognitive neuroscientists in training should seek experiences that allow them to interact with patients with neurological and psychiatric disorders. When you see a patient with brain damage firsthand, it will be clear what the goal of your research should be. Third, we need to perform more basic studies with real-world contexts and tasks. Finally, we need to develop clinical biomarkers of brain function, which can be derived from basic cognitive neuroscience research, that can track our therapeutic interventions. 
CNS: What do you most want the public to understand about what you are doing? 
Dr. D'Esposito: Although it seems like the research being done by cognitive neuroscientists comes from deep inside an ivory tower, and the goal is to advance knowledge for knowledge's sake, we all have our eye on the ball. Our quest to understand the human mind will someday help the human condition. We greatly appreciate the support we receive from the public, and we hope that they will keep letting their elected officials know that public funding of scientific research and the training of future scientists is critical to our mission! 
CNS: Is there anything else you'd like to add?
Dr. D'Esposito: I want to take this opportunity to express my appreciation to the Cognitive Neuroscience Society for honoring me in this way. I have been blessed with the opportunity to be surrounded by a highly talented group of undergraduates, graduate students, and postdocs. My contributions to the field of cognitive neuroscience are their contributions, and I am honored that our collective story has impacted our field. 
-Lisa M.P. Munoz