CNS 2020 Exhibit with us in San Boston!
You are invited to exhibit, advertise or sponsor at the CNS 2020 Annual Meeting, which will be held March 14-17, 2020 at the Sheraton Boston Hotel located at 39 Dalton St, Boston, MA, 02199, United States.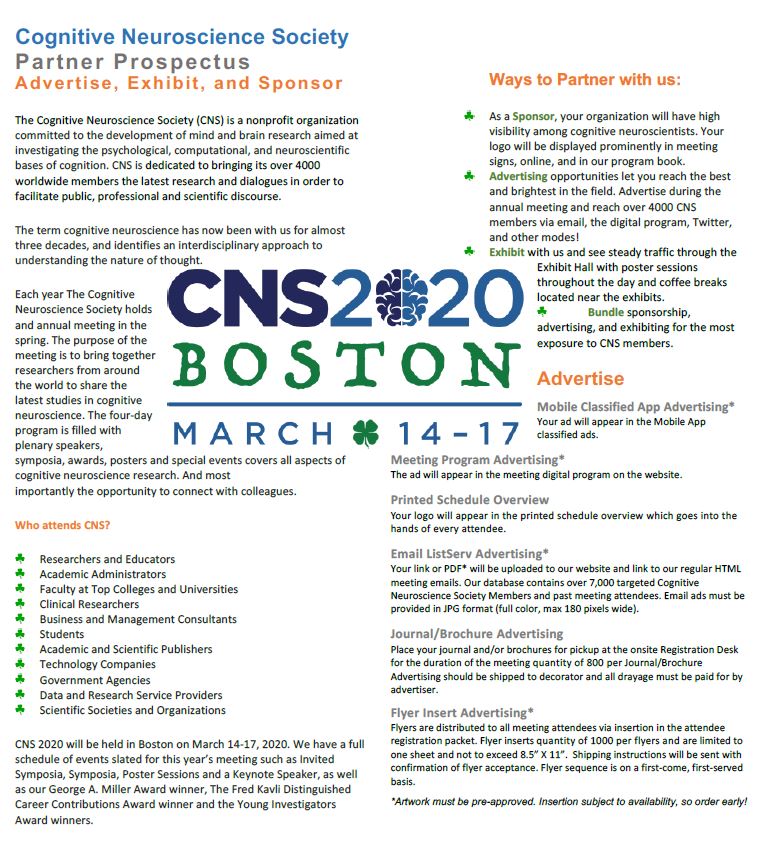 The purpose of the meeting is to bring together researchers from around the world to share the latest studies in cognitive neuroscience. This four-day event is filled with symposia, posters, awards and, most importantly, the opportunity to connect with colleagues.
To reserve your booth, please complete the Exhibitor Application form here and send it in as soon as possible. Please sign up before the Advanced Pricing deadline of December 31, 2019 to secure the lower fee, and to guarantee that your company will be listed in the meeting program. Last year our exhibit booths filled up early, so you are encouraged to submit early.
If you have questions, please contact Tara Miller at exhibits@cogneurosociety.org. We hope to see you at CNS 2020 Annual Meeting!
For more information, download the Exhibitor, Advertiser & Sponsorship Prospectus (PDF).
Deadlines
| | |
| --- | --- |
| Item | Date |
| Exhibit contracts and payments due.* Advance Price deadline. | December 31, 2019 |
| Last day to received refunds on cancelled advertising or exhibit space. | February 6, 2020 |
Exhibiting
Each booth is 8' x 10' and includes a 7" x 44" sign identifying your organization, one 6' x 30" skirted table, two side chairs, and one wastebasket. Furniture rental and other exhibitor services will be available through Curtin Convention, the show decorator.
* Applications received after January 1, 2020, will be considered, space allowing, but not guaranteed.
Here is a list of some of our exhibitors at CNS 2019 Annual Meeting in San Francisco.
| | |
| --- | --- |
| COMPANY NAME: | BOOTH # |
| ANT North America | Booth #103 |
| BIOPAC Systems Inc | Booth #204 |
| Brain Vision LLC | Booth #202 |
| Compumedics Neuroscan | Booth #205 |
| Cortech Solutions Inc | Booth #101 |
| gTec Neurotechnology GmBH | Booth #209 |
| I Motions A/S | Booth #201 |
| MIT Press | Booth #210 |
| NIRx Medical Technologies LLC | Booth #304 |
| NITRC | Booth #303 |
| Oxford University Press | Booth #104 |
| Phillips Neuro | Booth #208 |
| Psychology Software Tools | Booth #203 |
| Rogue Research Inc | Booth #301 |
| SR Research, Ltd | Booth #207 |
| TMSi Booth | Booth #302 |
| Wearable Sensing & Neuracle Technologies | Booth #102 |
| | |
---
Exhibit Set-up / Tear Down
*Tentative Schedule
Date
Set-up
Open
Tear Down
Saturday, March 14, 2020
11:30 am - 1:30 pm
2:30 pm - 6:15 pm
Sunday, March 15, 2020
7:30 am - 8:00 am
8:00 am - 5:00 pm
Monday, March 16, 2020
7:30 am - 8:00 am
8:00 am - 6:15 pm
Tuesday, March 17, 2020
7:30 am - 8:00 am
8:00 am - 12:00 pm
12:00 pm - 2:00 pm