Information for Attending CNS Virtual 21
Thank you for joining us for CNS Virtual 21. Please read the information and instructions below on how to log in, what to expect, how to find things, and more. View the CNS Virtual21 Attendee How To Guide here.
How to Access the Virtual Meeting Platform
The day before the first day of the meeting, you will receive an email at the address used during registration with instructions. The virtual meeting login information will be included in this email.
You must be registered to receive a meeting login. Presenters will not have access to their presentation without current registration. Registration is uniquely set up for one virtual meeting login for one individual. It is not intended for multiple logins/multiple locations and it should not be shared.
Where to get Help
Check Recommended System and Internet Requirements. Adjust as needed.
If you are not able to login, contact CNS Help via meeting@cogneurosociety.org.
If you are logged in to the virtual platform, go to Help.
If this does not resolve the issue, go to the Lobby and use the Chat to request help from staff.
Orientation
Be sure to attend the Orientation during the Opening Ceremonies on Saturday, March 13, 10:30-11:00 am ET. This orientation will include ways to navigate in the platform. Don't miss the daily videos on upcoming sessions hosted by our own Tobias Engler, program chair and Marian Berryhill, poster chair.
Time Zone Hours
The CNS Virtual meeting schedule was built using the Eastern Time Zone. However, our platform will adjust to your time zone based on your browser. To see what time zone has been assigned to your account, go to the Account tab and then to your Profile. Be sure to remember this when looking at the schedule.
Itinerary/Personal Scheduler
You can build your own itinerary in two different ways.
First, before the meeting, you can go to the Schedule Overview on our website, click session, then use the "Add to Calendar" option to include sessions you want to see. This will export the information into the personal calendar that you use.
Second, once the virtual meeting has begun, you can add sessions to your personal itinerary by clicking on the top left-hand button box+ within the virtual meeting platform. This option is only available once the virtual meeting begins. To find the info you saved go to Filter at the top, next to the Search function, and choose, Personal Schedule.
What's Happening Announcements
Here are a variety of ways to receive information during the virtual meeting:
Orientation Video
Announcements in the platform
Daily Videos in the platform
ListServ emails
Twitter
CNS Website
Helpful Tips
Build your itinerary in advance. Read through the talks and poster abstracts and "Add to Calendar" sessions you want to attend.
Network with people you have similar interests in the Groups Chat Rooms in the Networking tab.
Be sure to update your Profile in the Attendee Portal, so that other attendees can connect with you.
Update your Twitter and other social media profiles in your virtual platform profile.
Have a file on your desktop with your contact information ready to copy/paste into the chat boxes.
Start each day by watching the Daily video. Each day will feature different sessions to start your day off in a fun and inspiring way.
The virtual meeting platform will connect you to Zoom rooms for Q&A. Test out your Zoom connection here: https://zoom.us/test.
Areas in the Virtual Platform
You will have access to several features that are available anytime. These include the Lobby, Sessions, Exhibit Hall, Poster Hall, Networking, and Account. Click around the Sessions area to read descriptions, presenter information, and decide which session to attend. You can look around the Poster Hall and Exhibit Hall anytime. Networking is to connect directly with another attendee, via Chat. Account is where you can update your public information.
Lobby
This is the lobby of the virtual platform. Here you can see announcements and can check the #CNS2021 Twitter feed. Use this Chat for general inquiries or to request help from staff.
Sessions
In this area you will find all scheduled meeting sessions, such as, Keynote, Award talks, Symposia, Special Sessions, DataBlitz. This is also where you will go to add sessions to your Itinerary/Personal Scheduler. You can add Poster Sessions to your Personal Scheduler here too. To see individual posters, choose the Poster Hall tab.
When going to a session, the video will begin at the start time of each session. If you are late to a session, it will not bring you into the session video late, it will start at the beginning. Be sure to note this if you want to start the next session on time.
Exhibit Hall
The Exhibit Hall is where you will see exhibit booths of our CNS Partners-Sponsors and Exhibitors. By choosing an exhibitor, you will be able to see info about their company as well as email them directly or Chat. Exhibitors are able to upload files, videos, and add social media links as well.
Poster Hall
The Poster Hall includes all posters that will be presented at CNS Virtual. Click on a poster and see their author list, affiliations, abstract, pdf, and video that some may provide. You can start a Chat with each presenter or email them. Hey also may provide Social Media links. Use the Search function to find specific posters by number or title.
Networking
The Networking tab is a way to direct chat with an attendee by name. It also has Groups chat rooms, to network with people of similar interests.
Account
This tab allows you to update your profile, picture, social media, see time zone, change password, upload files, and ask for a Certificate of Attendance. You can Chat directly by Private Chat with other attendees or for Group Chatting. The groups can be made for keyword interest group other options.
Info about Poster Presentations
Virtual Platform Poster HallYour poster will be housed in the virtual platform, Pheedloop, in the Poster Hall. This is where people can come to read your abstract, look at the poster pdf, watch your video, and Chat with you anytime during the meeting hours. You must upload your poster pdf by 3/1/21. There will be no changes after this date. A welcome email was sent to you with information on logging in and uploading your presentation.
Live Poster Presenting OnlyDuring your assigned poster session, the live poster presenting will be done in SpatialChat. SpatialChat is a is a virtual meeting platform similar to Zoom. The main difference is the additional dimension of space and proximity. In contrast to Zoom, participants can engage in separate conversation based on the proximities of the avatars from each other. Your poster will be displayed in a room that corresponds with you poster number, e.g. A1 is in the Poster A1-A6 room. You will "stand" in front of your poster and discuss it with other attendees just like you would at a physical poster. There will be a maximum of 6 other posters in your room.
In advance of the meeting, go to SpatialChat to try it.
Go to https://spatial.chat/s/TryMe to check it out.
Enter your name and a brief bio such as affiliation and position.
Wander around the rooms to get a feel for the app.
During the Meeting
1. During the live presentation time, go to Sessions/Poster Session A (B-F). The cover slide will have a link, with login, and password for SpatialChat. This is where you will engage in real-time discussions with the presenters.
2.  This will take you to the lobby where you will find the room with your poster by number.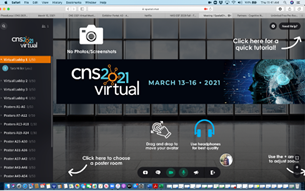 3. Click on the room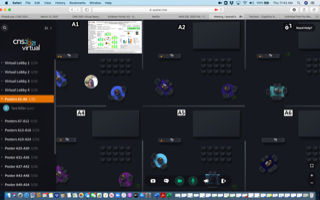 4.  Find your poster and stand next to it and discuss with other attendees.  All attendees at your poster, should group around your poster with you (presenter) standing in front of it and presenting. The closer the attendee to the presenter the better they can hear you, just like at a physical meeting.
5.  Move to other rooms to visit other posters, by clicking on the room.
6.  At the end of the poster session, the posters in each room will change to the next session.
Virtual Scientific Poster Session on SpatialChat
What is SpatialChat?
Similar to Zoom, SpatialChat is a virtual meeting platform. The main difference is the additional dimension of space and proximity. In contrast to Zoom, participants can engage in separate conversation based on the proximities of the avatars from each other. Another useful feature is image pinning where, for our purposes, we can display up to 6 posters in a room that is marked, see below. This means that presenters can hang out by their posters and attendees can go around and chat with the presenters if their avatars are close enough in proximity to the presenter—an experience resembling in-person poster sessions!
How to Login in Advance to Try Out
For best quality for everyone, please use a headset. This way we can minimize echo and sound feedback.
Try to close out any unused programs on your computer for best experience.
Test your connection: https://spatial.chat/s/TryMe
During the Virtual Event 
   Go to Sessions -> Poster Session A (B-F). The cover slide will have a link, with login, and password for SpatialChat, the link is also displayed below. Click on it.
   Enter your full name and group or company affiliation, e.g., Rio Febrian (CCHF/Emory)
   In the "About" box, enter your position, i.e., Research Scientist, Graduate Student, Postdoc, Faculty, etc.
   Choose "Camera and microphone"
   Click "Join Space"
   To move within a room: drag and drop your avatar bubble
    To zoom in/out: use your mouse scroll or the +/- in the right lower corner of the screen.
   To see a tutorial, click the Need Help on the top right corner of the screen.
   To navigate between rooms: click the room names on the left sidebar
  To go directly to a specific person: click on their name
Language
At the top right in the platform, you can select a language other than English for platform tabs, search, and buttons. This will not translate the sessions.
Private Notifications
At the top right corner, you will see a bell. Click on this to see any private notifications.
Accessibility Adjustments
At the top right-corner of the virtual meeting, you will find accessibility adjustment options. There are a variety of options you can choose from including, profiles, font size, color adjustments, orientation and adjustments which can help you interact better with the virtual meeting platform.
Recommended System and Internet Requirements
Unlike a traditional venue for a live event, virtual events have made laptops, tablets, smartphones, and more the venue! With so many options for hardware and software to choose from, along with the connectivity that goes along with them, we have a few recommendations for attendees to help them achieve the best performance during CNS Virtual 21.
Optimal Setup
A general rule of thumb is that any modern browser and high-speed internet connection is all that's really needed to run CNS Virtual 21. The best setup we've found is using Google Chrome on a laptop or desktop machine, with an internet connection offering at least 25 Mbps download speed. You can test your internet speed here.
Supported Browsers
Any major, modern browser is supported. This includes Google Chrome, Mozilla Firefox, Apple Safari, and even Microsoft Edge. We've rarely found browser incompatibility issues if a modern version of any of the aforementioned browsers is being used.
*Note that Internet Explorer is not a supported browser due to it being incompatible with modern web performance and security standards
Device Types
The CNS Virtual 21 virtual event system is best experienced on a laptop or desktop device, though it is responsive and compatible with tablets and smartphones. Tablets and smartphones are best suited for view-only experiences, as the virtual platform relies on several technologies that are best compatible with full browsers (e.g. video chats). As a point of reference, our statistics show that 95% of virtual event attendees use laptop or desktop devices. If you are using the Zoom integration, it is currently not compatible with mobile devices (Zoom has said a future update to their software will better support mobile devices).
Troubleshooting
Everybody has different browser configurations and network settings/restrictions which, in extreme cases, may warrant trying a different browser and/or network just to have a clean environment to engage with CNS Virtual 21 through. In case something isn't working, to isolate the root cause, we often suggest trying:
Private/incognito window in your browser
Different browser (see Supported Browsers above)
Disabling any operating system level VPNs or firewalls which may be blocking a specific website
Different network
Different computer
If you continue to experience an issue after trying these options, please get in touch with us and share a full-screen screenshot.